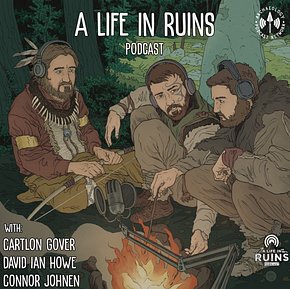 By Carlton Shield Chief Gover
The three of us would like to sincerely thank our friends and faculty at the University of Wyoming, University of Colorado Boulder, University of Tennessee, Colorado State University, and Radford University for their love and support.
Watch out for Tristan Boyle and his Timular Cube
How did A Life In Ruins Podcast get Started?
Starting an archaeology themed podcast has been an idea that I've had since I was an undergraduate at Radford University. Money, time, and production knowledge were always limiting factors.
It wasn't until I was interviewed for the Heritage Voices Podcast, by Jessica Yaquinto, that I learned about the Archaeology Podcast Network. Jessica hooked me up with Chris Webster, one of the producers for the Network. He explained that the APN does all of the editing and production work so all that I pitched to him my idea for a podcast and he thought it could be successful. I just needed some cohosts to make the podcast a reality.
I reached out to David who I went to school with at the University of Wyoming. His ethnocynology Instagram was really starting to take off and I knew he'd be an excellent personality for the show. David was skeptical at first but he expressed his interest. Or was it that I didn't give him a choice? hmmm. Anyways, it was David's idea to reach out to Connor to be our third host. Connor had left UW before I had started there and I didn't know him super well but we had shared a hotel room for the SAA conference in D.C. and had some fun experiences during that trip. Connor was down and so the A Life In Ruins Podcast was born.
I couldn't imagine this podcast without Connor or David. Through this podcast journey (Death March?), they have become two of my closest friends. We're now starting to put content on our YouTube channel and our Instagram page has become increasinlgy popular (it's mostly memes now). Hit the corresponding logo icons at the top of the page to find our social media accounts.
Oh! We also recently passed our one-year anniversary for the show being online and we have no plans to stop anytime soon.
Please be sure to click the pictures above to find out more about David, Connor, and myself.